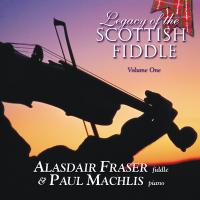 Alasdair Fraser (fiddle)
Paul Machlis (piano)
Natalie Haas (cello)
Todd Phillips (bass)
"...deliciously satisfying at every turn through its unerring sense of pace. Alasdair's exceptional fiddle playing is perfectly complemented by Paul's lithe yet understated piano accompaniment, also occasionally underpinned by bass or cello. The outstanding empathy between Alasdair and Paul - playing partners since 1983 - really shows on this sublime recording. More soon please! " ¾ David Kidman
" Since at least the 1700s, Scottish fiddlers created tunes that are uniquely theirs. Rarely has a collection of reels, strathspeys, and hornpipes come together with such a fine ear for arrangement and album tune sequence. A very satisfying listening experience." ¾ Richard Dorsett, Roots World and Victory Review April 2001
".flowing melodies with an occasional dance tune played beautifully by the best Scottish fiddler of this generation, accompanied on piano in music that inspires... ...William Marshall's melancholic 'Chapel Keithack,' coupled with William Gardiner's 'Belmont', is enough to make you weep for the wicked ways of the world." ¾ Bill Compton, Sacramento News & Review and Victory Review March 2001
"This album is a beautifully played musical history and a must for any collector. ¾ Molly Alexander,Celtic Waves, New Age Voice Magazine
".It's a beautiful recording ...these will, I'm sure, soon be regarded as the definitive versions of these classic tunes. Alasdair has outskinnered Skinner with this one! Madame Neruda, Chapel Keithack and Belmont are stunning." ¾ Alistair Brown CIXX-FM

"...the best Alasdair recording I've heard in a long time, if not ever, ...great to hear him playing good old Scots tunes" ¾ Ed Miller, KUT FM
"Absolutely brilliant! The best yet, it really demonstrates Alasdair's undiluted full range of talents." ¾ Ted McGraw, Irish Radio WWWG
* * *
A note from Alasdair Fraser:
"The great treasury of Scottish fiddle music is full of beautiful melodies with enormous potential for expression, style and idiomatic language. Many of the composers were self-taught fiddlers; others honed their skills with considerable technical training. Some earned a living playing for dancing, performing in concert, teaching music, and publishing their tunes; for others, musicmaking was consigned to the after-hours. What they shared was a passion for fiddle music-music that can instigate a whole roomful of dancing within a few beats of a driving reel, or evoke tears through the sheer beauty of an air. As participants in a living tradition, these musicians inherited the legacy of the Scottish fiddle, borrowed from it, and paid it back with interest. Their compositions honour friends, family and patrons, celebrate engineering feats, recall a special place or landmark, and capture poetic moments. They represent a 250-year continuum of tunes and idiom being passed from generation to generation.
"My own passionate involvement in the Scottish fiddle reflects a family legacy. My paternal grandfather, along with other family members, helped found the Stirling Strathspey & Reel Society in 1930. My father, a piper and discerning enthusiast of the fiddle, recalls his granny at the old Culburnie croft singing Gaelic mouth music and having him sing the lines back to her until he had them note- and syllable-perfect.
"As time has passed my love for this music has only deepened. In 1983 I was fortunate to find a kindred spirit in pianist Paul Machlis in Berkeley, California. Over the years, amid many musical journeys both together and independently, Paul and I have maintained our love for this music, and finally dedicated time to recording some of it. We acknowledge here our debt to the great interpreters of this music in the past."
* * *
The duo that "kickstarted the Celtic-New Age fusion that exploded in popularity in the '90s" (All Music Guide) presents a gorgeous new recording of classic gems of the Scottish fiddle tradition. Fraser (fiddle) and Machlis (piano) began collaborating in 1983, first recording their acclaimed album Skyedance(CUL101) - tapped for tracks on Celtic compilations with nearly 2 million in combined sales - and more recently, two albums with their Celtic supergroup, Skyedance. Fraser has gained international fame as a performer and musical contributor to such hit films as The Last of the Mohicans and Titanic. He has been featured on over 150 TV and radio programs worldwide, including U.S. national broadcasts ofCBS Sunday Morning, Kennedy Center Honors, A Prairie Home Companion and NPR's Morning Edition. His many recordings include Dawn Dance, which earned a 1995 Indie Award for Best Celtic Album. Paul Machlis is highly regarded for the lyricism which he brings to the Celtic repertoire and to his original compositions on three solo albums.
1

Miss Dumbreck (trad) . Miss Cameron of Balvenie (Marshall) . Clydeside Lassies (trad)
Three reels that appear in 19th century collections. Gow's sixth collection, published in 1822 has the third tune as the 'Clydesdale Lasses'.

2

The Auld Brig o' Don (J. Henry)
The title refers to the 13-14th century Brig o' Balgownie, which spans the River Don in Aberdeenshire with a beautiful Gothic arch.

3

The Beauty of the North (Mais' an Taobh Tuath) (Simon Fraser)
A slow strathspey which first appeared in Fraser's 1816 collection.

4

Madame Neruda (J. Scott Skinner)
Wilhelmina Neruda (1839-1911), also known as Lady Halle, was one of the most celebrated concert violinists of her generation.

5

Chapel Keithack (William Marshall) . Belmont (William Gardiner)
'Belmont' is well-known in Scotland as the hymn 'By Cool Siloam's Shady Rill'.

6

Earl Haig (J. Scott Skinner)
Field Marshall Earl Haig (1861-1928) was Commander-in-Chief of the British forces during the First World War. Skinner originally titled this air 'The Chief o' Bemersyde (A War Sermon)', inscribing at the bottom of his manuscript, 'a great effort, I think.'

7

Earl Grey (James Hill) . The Left Handed Fiddler (J. Scott Skinner)
Hill's classic strathspey honours Earl Grey (1764- 1845), a Prime Minister from Northumberland. There was also a pub by that name in Gateshead in the 1850s. The reel was for George Taylor of Aberdeen.

8

Rose-Acre (J. Scott Skinner)
Dedicated to A. McWilliam, Portsoy in Skinner's Logie Collection (1888).

9

Craigellachie Brig (William Marshall) . Largo's Fairy Dance (Nathaniel Gow)
Marshall's strathspey commemorates the 1815 opening of Telford's iron bridge over the River Spey. The Gaelic craigellachie refers to a rocky outcropping where beacons were lit if danger threatened. Gow wrote the reel for the Fife Hunt, 1802.

10

The Ancient Barons of Kilravock (Barain Chulrabhaig) (Simon Fraser)
In his 1816 collection, Fraser says this tune compliments 'a family who have for ages been celebrated not only as lovers of the science of music, but for uncommon proficiency and polished taste.'

11

Mrs. McPherson of Gibton (William Marshall) . The Novelty (Nuaghalachd) (Simon Fraser)

12

Lady Charlotte Campbell's New Strathspey (Robert Mackintosh) . Lady Charlotte Campbell's Reel (Robert Mackintosh)
Skinner declared the second tune to be 'the finest reel in B flat extant.'

13

Miss Hannah of Elgin (William Marshall) . Sir George Clark of Penicuik (Nathaniel Gow) . Major L. Stewart of the Island of Java Reel (William Marshall)

14

Mrs. Jamieson's Favourite Charles Grant

15

The Rose-bud of Allenvale (J. Scott Skinner)
Originally published in the 1920s in Skinner's Cairngorm series.

16

Seann Triubhais Uilleachain (Willie's Auld Trews) (trad)
Captain Fraser refers to this as a tune 'of considerable antiquity,' while crediting two Nairnshire musicians for the setting which appears in his collection.

17

Da Forfeit o' Da Ship (trad) . Da Grocer (Tom Anderson) . Jack is Yet Alive (trad)
Three reels from Shetland. DA Grocer' was written for Mr. Willie Birnie, 'a very good piper, keen enthusiast of traditional music, and a good friend to all the old fiddlers.'

18

Mr. A. Q. Wilken's Favourite (J. Scott Skinner) . Jenny Hardie's Reel (Bill Hardie)
Wilken was an amateur violinist from the Aberdeenshire village of Ellon. Jenny Hardie was Bill Hardie's wife.

19

Mrs. Major L. Stewart of the Island of Java (William Marshall)

20

The Iron Man (J. Scott Skinner) . The Smith's a Gallant Fireman (trad) . The Forth- Bridge Reel Williamson Blyth . Gillan's Reel Peter Milne . The Auld Wheel (J. Scott Skinner)
The 'iron man' was William F. McHardy of Drumblair, who made a fortune in engineering enterprises in South America; he was Skinner's friend and benefactor. The second tune refers to the village blacksmith's role in extinguishing unwanted blazes. The third celebrates the 1890 opening of the magnificent cantilever bridge near Edinburgh. 'The Auld Wheel' referring to the Mill 0' Him, is what Skinner dubbed a 'birling' reel.

21

Niel Gow's Lament for the Death of his Second Wife (Niel Gow)
In remembrance of Margaret Urquhart of Perth, to whom Gow was married for 30 years.